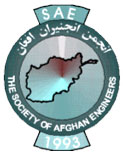 Contact SAE by email: [email protected]
or mail to:
Post Office Box 11520 * Burke, Virginia 22009-1520 or by phone: 909.868.4212
.


Home | Who we are | Objectives | Achievements | News Brief | Members & Membership


a
.
The rebuilding of Afghanistan hinges significantly on the political conditions of the country. Although SAE itself is strictly nonpolitical, developments that have important political implications, either positive or negative, deserve the utmost of our attention. Here is a short list of recent and upcoming newsworthy events:
Current and Upcoming News & Events
11/12/05
SAE's 2005 Conference is scheduled on the weekend of December 16 -18, at the Auditorium of Kabul University in Kabul – Afghanistan.
Details
Archives
06/24/04
2004 SAE Election: SAE 2004 election will be held July 31 – August 1 during the 2004 SAE conference. Individual who are interested to run for this year election for the SAE Presidency and Board Members.
Details
06/09/04
SAE's 2004 Conference and annual meeting is scheduled on the weekend of July 31-August 1, at the University of Berkeley in Northern California.
Details
06/10/04
You are invited to attend the Society of Afghan Engineers' meeting on June 20, 2004 from 10:00 AM to 12.00 noon.
Details
05/23/03
Society of Afghan Engineers-Southern CA Chapter, held a meeting on
Rebuilding Afghan Institute of Technology (AIT) on May 10, 2003 at Fremont, CA.
05/15/03
Society of Afghan Engineers will be an official supporting organization of the
Afghanistan: Rebuilding A Nation Conference, which is to be held in Chicago, Illinois,
June 8-10, 2003.
Details
03/18/03
Mr. Hashemyan – Kabul-Dushi Bid Package Review
Details
12/25/02
SAE Norther CA chapter Activities Report
Details
10/05/02
Report of 1st Annual SAE North CA Chapter (SAENC) Forum (Activity Report and New Member Invitation) 39155 Liberty Street, #D-420 Fremont, California 94583 Saturday, September 14, 2002
07/13/02
Society Of Afghan Engineers 2002 Symposium and Annual meeting is schedule on Saturday July 13, 2002 at Government Center, Fairfax VA.
Details
REPORT OF SAE MEMBERS' TRIP TO AFGHANISTAN
Details
06/22/02
SAE-NYC Chapter is organizing a professional gathering for a slide show presentation and discussion presented by the SAE members who returned recently from their fact finding mission from Afghanistan.
Details
SAE is planning to send a fact finding mission to Kabul Afghanistan in April 2002.
05/19/02
Our next monthly meeting is schedule for Sunday May 19, 2002 at Government Center, Fairfax VA from 9:00 AM – 5:00 PM. Please try to be on time.
Details
05/15/02
SAE membership fee has been decreased by the Board of Directors to $60/year for regular members, optional for non U.S. resident and waived for the students.
03/18/02
Abdul F. Kazi. PhD, SAE representative in Pennsylvania is invited to attend the conference in Shanghai, China on March 18 and 19. The conference is about cement need for the reconstruction of Afghanistan.
Mr. Kazi has extensive knowledge about concrete production and cement types. Mr. Kazi will represent SAE at the conference, and will provide information about the cement production in Afghanistan, and the need for cement.
Details
02/08/02
SAE will join a seminar in MIT, on housing and urban development.
Details
01/29/02
The Society of Afghan Engineers participated in the meeting held on January 29 in Hilton Hotel, Alexandria, Virginia. The meeting was scheduled for H.E. Mr. Hamid Karzai Prime Minister of the Interim Government of Afghanistan and his delegation to meet with Afghan professional organizations and intellectuals about their role in the reconstruction of Afghanistan.
Details
01/26/02
SAE Workshop at George Mason University, Virginia, from 9:00 A.M. – 5:00 P.M
Details
01/06/02
SAE president, is invited to be a speaker in seminar on the reconstruction of Afghanistan, planned by Afghan For Tomorrow (A4T) in George Mason University.
12/22/01
Malik Mortaza the SAE president participated at the Afghanistan Reconstruction Council (US-ARC) town hall meeting on December 22nd.